Saint Christina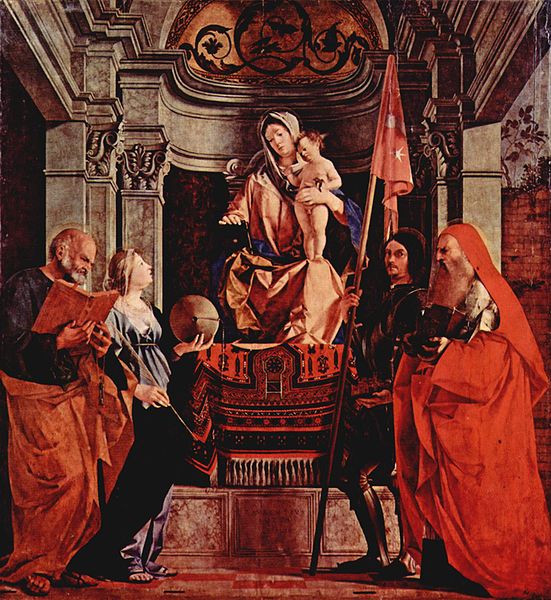 Saint Christina of Bolsena, sometimes known as Christina of Tyre is venerated as a Roman Catholic Saint and Christian martyr of the 3rd century.
She was once included in the Roman Catholic Calendar of Saints to be commemorated universally, wherever the Roman rite was celebrated, but, while her cult remains approved, she was taken off from the list in 1969, "because nothing is known of this virgin and martyr apart from her name and her burial at Bolsena.
The Tridentine Calendar gave her a Commemoration in the Mass of the Vigil of Saint James. Pope Pius XII suppressed this vigil, the celebration of Saint Christina became a Simple and in 1962 a Commemoration. She may now be celebrated with a Memorial everywhere on her feast day,
Archaeological excavations of an underground cemetery constructed at her tomb have shown that she was venerated at Bolsena by the fourth century
But little is known about her life. By the ninth century, an account of her martyrdom was composed, which developed many variants. According to these, she was born either in Tyre or in Persia during the 3rd to 5th century.
She was the daughter of a wealthy pagan magistrate named Urbanus who had his daughter tortured because of her faith, but God stopped his efforts on several occasions.
The torture included iron hooks, grilling by fire, placement in a furnace, torture on the wheel, assault by snakes, assailment by arrows, drowning tied to a millstone, and other assorted methods which she survives.
When her father died, his successor, Dion, continued to torture her. Christina eventually perishes, but not before God exhibits his wrath by lashing out at her tormentors.A beautiful Christian maiden is tortured to death by pagan men, who in return suffer the wrath of God.
Born 3rd Century, Persia modern-day Iraq and Iran
Died 3rd Century, Bolsena, Tuscany, Italy
Feast 24 July


---
Finished reading about Saint Christina,take me back to Roman Catholic Saints