Saint Agatha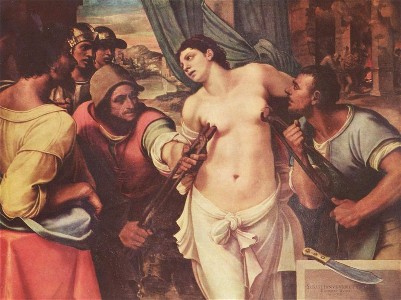 Saint AgathaThe female Saint was born at Catania and she was martyred in 251. She is one of seven women, excluding the Blessed Virgin Mary, commemorated by name in the Canon of the Mass. Having rejected the amorous advances of a Roman prefect, she was persecuted by him for her Christian faith. Among the tortures she underwent was the cutting off of her breasts. She is therefore often depicted carrying her excised breasts on a platter.
The shape of her amputated breasts, especially as depicted in artistic renderings, gave rise to her attribution as the patron saint of bell-founders and as the patron saint of bakers. More recently, she has been venerated as patron saint of breast cancer.
Her scorned admirer eventually sentenced her to death by being burnt at the stake. But, she was saved from this fate by a mysterious earthquake. And later died in prison.
She is the patron saint of Catania, of San Marino, and of Malta as her intercession is reported to have saved Malta from Turkish invasion in 1551.
An annual festival to commemorate the life of Saint Agatha takes place in Catania, Sicily, from the 3rd to the 5th of February. The festival culminates in a great all-night procession through the city for which hundreds of thousands of the city's residents turn out.
Born 3rd century AD, Catania or Palermo
Died c. 251, Catania
Feast February 5
Attributes shears, tongs, breasts on a plate
Patronage Ali, Sicily; bell founders; breast cancer; bakers; Catania, Sicily; against fire; earthquakes; eruptions of Mount Etna; fire; jewelers; martyrs; natural disasters; nurses; Palermo, Sicily; rape victims; San Marino; single laywomen; sterility; torture victims; volcanic eruptions; wet nurses; Zamarramala, Spain



---
Finished reading about Saint Agatha, Bring me Back to the Saints List please
---
Would you like to read the Rosary novena prayer, then Click Here