Saint Afra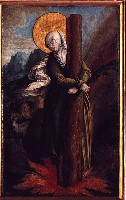 Saint Afra she was originally a courtesan in Augsburg, having come there from Cyprus, as the daughter of the King of Cyprus. She is reputed to either run a brothel in that town, or work as a prostitute in the Temple of Venus.
As the persecution of Christians during the reign of Eastern Roman Emperor Diocletian began, Bishop Narcissus of Girona arrived and lodged with Afra and her mother, Hilaria.
The bishop did not know their profession, but soon converted them to Catholics. She continued to hide the bishop from the authorities, but was arrested, and condemned to be burnt to death.
Her mother and her maids Ligna, Eunonia and Eutropia later suffered the same fate, for interring her in a burial vault.
Alternative, and earlier document, it is stated that she was beheaded, rather than burnt. Her cult was widespread in Bavaria, and the town of Täferrot takes its name from her.
Born Unknown, Augsburg, Rhætia
Died c. 304
Venerated in Roman Catholic Church
Major shrine St. Ulrich's and St. Afra's Abbey, Augsburg
Feast August 5 (sometimes listed as August 6, August 7)
Attributes depicted being burnt to death
Patronage Augsburg; converts; martyrs; penitent women



---
Finished reading about Saint Afra, Bring me Back to the Saints List please
---