The Blessed Sacrament Prayer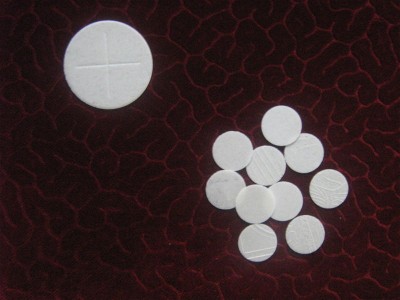 ---
The Blessed Sacrament Prayer:
Lord Jesus, at the Last Supper as You sat at the table with Your Apostles, You offered Yourself to the Father as the spotless lamb, the acceptable gift that renders perfect praise to Him. You have given us the memorial of Your Passion to bring us its saving power until the end of time. In this great Sacrament You feed Your people and strengthen them in holiness, so that the human family may come to walk in the light of one faith, and in one communion of love. We are fed at Your table and grow into Your risen likeness.
Lord Jesus, You are the Eternal and True Priest Who established this unending sacrifice. You offered Yourself as a Victim for our deliverance and You taught us to offer it throughout time in memory of You. As we eat Your Body that You gave for us, we grow in strength. As we drink Your blood that You poured out for us, we are washed clean.
Lord Jesus, let the power of Your Eucharist pervade every aspect of our daily lives. Let Your consecration transform all our actions and all the events of each day into supernatural agents that form Your Mystical Body. Amen.


---
To listen to the Prayer please Press Play.
---
Finished saying The Blessed Sacrament Prayer, Bring me Back to the Prayer List please.

Bring me Back to Daily Prayer please